Camera Bags
Showing all 27 results
Vincov vintage aesthetic camera bag. All bags are made out of high quality materials and for the specific requirements of a photographer. The perfect cover to transport your beloved camera and the gear you need to take high quality pictures. All of our bags are shockproof and perfect for outdoors and urban photo adventures. Check out our vintage style rucksacks, backpacks and shoulder bags.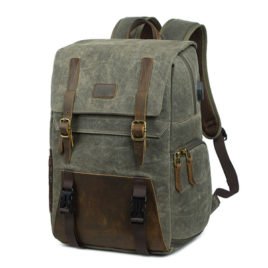 Tulum Camera Backpack
The Tulum Camera Backpack's adaptable storage and photography features make life more comfortable. It provides a smart carry solution, making it great for commuting, shooting or travelling. The photography backpack is made out of weather-resistant materials that keep your camera + gear secure in any kind of situation. With this functional photography backpack, you will never worry about whether your gear is protected. Hence, you can focus on what you are shooting. The integrated USB charger port is a convenient external connection, which offers easy access to charge your devices on the go.
€

129.00
Select options