Canon
Showing all 20 results
Vincov vintage aesthetic camera cases for Canon. The Cases are made out of high quality materials and for the specific requirements of a photographer. The perfect cover to protect your beloved Canon camera. All Casings are perfect for outdoors and urban photo adventures. Our shop got cases for the wide range from Canon. If you don't find the right one for your one, just contact us and we will find the right one for you. Check out our retro style camera cases and enjoy worldwide free shipping.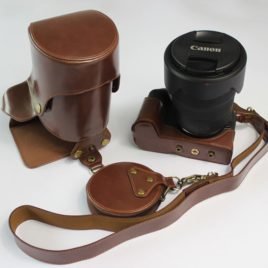 Banff Camera Case – Canon EOS RP | Canon EOS R
The Banff Camera Case is made for the Canon EOS RP and Canon EOS R with up to 24-240mm lens. It fits perfectly and will vintage cover your beloved Canon camera. Once the case is on, your camera is safeguarded. While it gives full protection to your camera, it can quickly pull open the leather flap, make sure you will not miss any great opportunities to take a photo. Also, the camera can be put on a tripod easily without removing the case. With fast access opener, you can put into the battery without removing the base.
€

69.00
Select options