Backpack
Showing all 12 results
Vincov vintage aesthetic camera backpacks. The Backpacks are made out of high quality materials and for the specific requirements of a photographer. The perfect cover to transport your beloved camera and the gear you need to take high quality pictures. All of our bags are shockproof and perfect for outdoors and urban photo adventures. Check out our vintage style Rucksacks and enjoy worldwide free shipping.
Sale!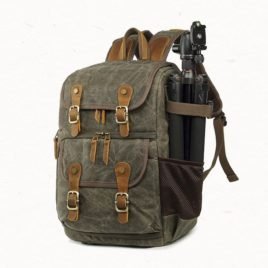 Lisboa Camera Backpack
Lisboa Camera Backpack is a vintage-style backpack made with a high-density canvas that is water-resistant. Therefore, it keeps your camera and accessories secure even when it rains. The timeless outlook pair with two evergreen colors. Moreover, under the vintage look, there are various modern features that you would love! For example, the glasses hanging buckle on the backpack strap and the secret back computer compartment.
Select options